Our services.
We provide web development services for fully customized presentation websites and online stores, with multiple integrations. We ensure continuous maintenance and updates for maximum efficiency, accompanied by SEO and Copywriting services. Our specialized team supports the growth of your online presence through effective digital marketing strategies.
Presentation websites
In today's digital landscape, a properly constructed presentation website is a crucial element for the success of your business. We provide you with our expertise in developing presentation websites that ensure a seamless browsing experience, highlighting the uniqueness of your services. We are present in every phase of the process, from the conception stage to the launch, including ongoing monitoring.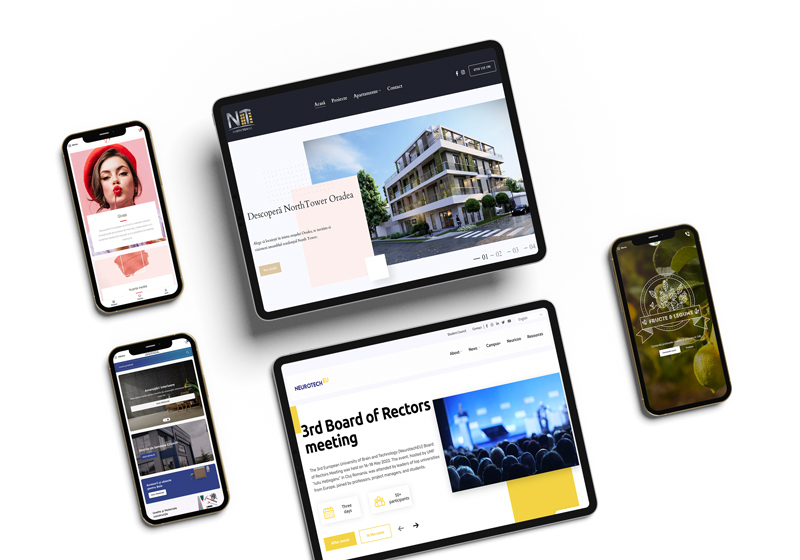 Online store
Transform your business idea into a fully functional online store, developed in WordPress. We take care of customizing and optimizing the online store to meet the specific needs of your business. In this way, we will lay the groundwork for scaling sales and expanding your online presence. Your online store will be integrated with various payment processors, shipping solutions, cloud billing systems, and CRMs, making it perfectly tailored to your business requirements.
Maintenance
We provide ongoing maintenance and update services for your website, aiming to keep it in the best working condition. We constantly monitor performance and perform continuous updates to ensure that the website runs smoothly for extended periods of time without interruptions.
SEO & Copywriting
Improve your online visibility and attract a larger number of customers with the help of our SEO and Copywriting services.
Online advertising
Online advertising is an ever-evolving process that requires daily adjustments and optimizations to generate consistent results. Our specialists are ready to implement effective strategies and help you boost conversions through digital marketing campaigns across various platforms such as Google Ads, Facebook Ads, Instagram Ads, and TikTok Ads.
#PromovareOnline #DigitalMarketing #SEO #PPC #SMM #ContentMarketing